Welding Screens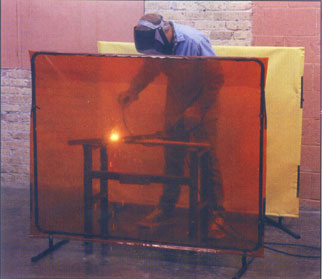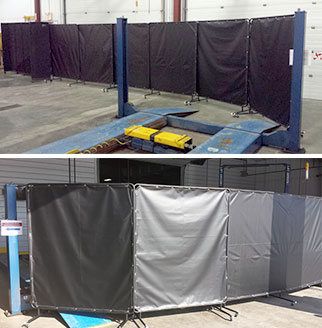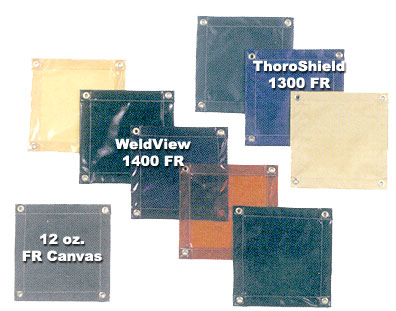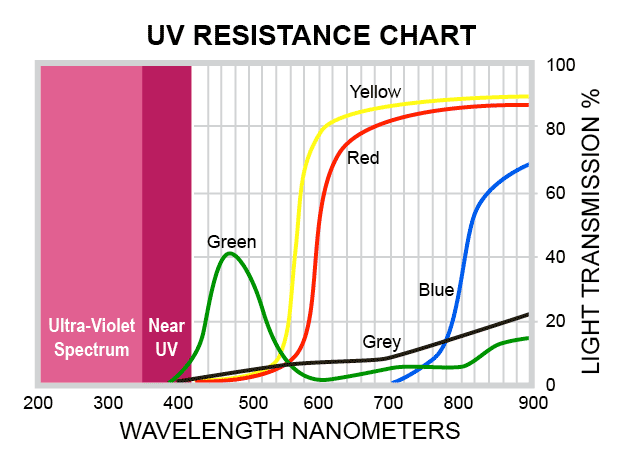 Welding screens are generally used to shield chipping, cutting, grinding and welding applications from the unprotected eye and to contain sparks and flames from spreading beyond the work area. Some of these screens such as our CanvasShield 1200 FR, and our ThoroShield 1300 FR are opaque reinforced fire retardant fabrics that offer 100% visual protection and particle containment from grinding and blasing operations. Our WeldView line of welding screens comes in 6 different transparent colors for varying degrees of UV protection. The green and gray WeldView screens offer the most protection, the orange and yellow offer moderate protection, and the blue offers little UV ray protection. Order Now
Welding Curtains
Metal and welding shop applications such as chipping, grinding, heat treating, sand blasting, welding, cutting, and painting often require enclosures for safety. Welding curtains are designed to be used only in a vertical/curtain configuration. They are not intended to be used horizontally as a blanket. They do not have the Fahrenheit rating, strength, or fireproof rating necessary to catch slag or other molten materials. THOR welding screens are sold as A) a complete kit with the 18 gauge tubular metal frame included or B) as replacement curtains designed to fit virtually any standard frame regardless of manufacturer.
Alternate fabrics are available in addition to those shown here on our website up to and including 36 oz/sy silica and Kevlar reinforced blankets. We also specialize in manufacturing custom screens designed to fit your specific needs. These screens may be customized with D-rings, Velcro, Zippers, multiple layers, and fabricated into flat or dimensional covers. You will need to contact us with theses specific needs by phone, fax, or e-mail.
THOR welding screens may also be ordered with our Velcro Tab system to easily join screens together to form two sided, three sides, and completely enclosed four sided configurations.
Free Standing Welding Screens with steel frame, platform legs & screen material of your choosing!
Select screen fabric and dimensions from the table below by clicking a button in the grid.
Prices shown include floor-standing metal frame and curtain/screen.
On the next screens you will select the color.
You may return to this screen repeatedly to add additional screens to your shopping cart.
1 and 4 panel welding screens come with platform legs so each can stand up by itself; 1 panel screen come w/ (2) platform legs & 4 screen assemblies come with (5) platform legs
2 and 3 panel screens do not come with platform legs unless special ordered which means screens have to be cocked as if perimetering a welding area to stand w/o the legs
For multiple panel screen, order the number of single panels required to create the multiple sides and then in the comment section of the order form located at the check-out, tell us you want those panels hinged together instead of separate.
Screen frames are 1" round painted 18 gauge steel tubing.
Casters are 2" diameter caster with 4" overall height.
Order Pre-Cut Welding Screens
Dimensions:
Fire Retardant Canvas
WeldView 1400 FR
ThoroShield 1300 FR
4ft x 5ft
$127.41

$138.49

$138.49

4ft x 6ft
$129.65

$140.93

$140.93

5ft x 5ft
$142.72

$155.13

$155.13

5ft x 6ft
$146.13

$158.84

$158.84

6ft x 6ft
$150.78

$163.89

$163.89

5ft x 8ft
$172.21

$187.19

$187.19

6ft x 8ft
$179.25

$194.84

$194.84

8ft x 8ft
$210.24

$228.53

$228.53

Order WeldView 1400 FR by the Roll
(without grommets)
Quantity
Roll Width
Linear Yards
Color
Price/Roll
Order WeldView 1400 FR Insti-Curtains by the Roll
(with grommets along one long side)
Quantity
Roll Width
Linear Yards
Color
Price/Roll
Platform Legs
• 3 required for 2 screen assemblies
• 4 required for 3 screen assemblies
Casters
• 2 required per platform leg

Track Components:
• Track Component Information
• Track Component Order Form
---
Frequently Asked Questions
We have a requirement to put fire blankets around some semi-tires in our application. Our question is around how well does the material stand up to extended exposure to sunlight, water and freeze thaw cycles etc. Is it better to get a coated blanket for the environmental concern? Also after some fire exposure testing we may be requesting custom fit blankets for the longer application. Is that something you can do?
I would go with a coated fabric. An uncoated fiberglass or silica product could wick moisture and cause early breakdown of the fibers. Sunlight is no factor. As long as you are not talking cryogenic like temperatures, the cold should not have an effect on the blankets once they return to a reasonable temperature. They will get brittle at very low temperatures, below 32 degrees F, but would retain their resistance to slag, sparks, etc.
What type of thread do you use on your welding screens? What is the thread's thickness?
Type E-18, Teflon coated fiberglass, thread size #12 equivalent .017 diameter.
I'm looking for a welding blanket, would these work for this application?
No, we would recommend you take a look at our other site dedicated to Welding Blankets.
More questions?
Call us at 888-634-6462, or email us at info@welding-blankets.com.

info@eTarp.com • PO Box 35 • Curtis, MI 49820-0035
1-888-ODIN-INC (1-888-634-6462) • 262-569-7171 • 800-835-8467
(Solicitation calls will Not be accepted)